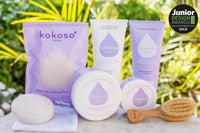 Kokoso Baby Wins Gold for Baby Toiletries at Junior Design Awards 2017
Hooray! Our pure and natural skincare range has scooped gold in the Junior Design Awards Best Baby Toiletries category!
The judges said:
"Packed with the highest quality organic coconut oil, the Kokoso Baby range is super gentle and nurturing, leaving your baby cocooned in a gorgeous coconut smell – although, if you're not as nutty about the smell of coconut as us, there's a fragrance-free version too.
The super cute packaging was commented on several times by our judges who loved its two tone simplicity and graphic coconut motif. With a hairbrush and natural Konjac sponge that is suitable for delicate newborn skin available alongside their Baby Coconut Oil and their Baby Hair and Body Wash, this really is a top-to-toe bath time range."
Have you tried our award-winning coconut oil skincare yet? We'd love to hear what you think!