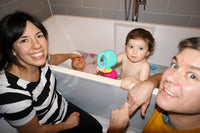 How it all began
Kokoso Baby® is the organic skincare brand started by Lauren when she was a new mum looking for a natural solution for her little one's sensitive skin. She discovered the wonders of raw virgin organic coconut oil and quickly became passionate about its many amazing skincare benefits and uses.
She and her husband Mark spent a long time searching for the perfect lightweight organic coconut oil packed with natural healing goodness – and didn't stop until they'd found something really special to share with other parents and their little ones. Soon after launching the business, they won the Boots 'Inspired by Baby' competition and gained investment on BBC's Dragons' Den! The mum and dad team now have a whole range of multi award-winning coconut oil toiletries, developed with so much love for their babies and yours.
A nutty idea
It all started with a little girl called Seren. Whilst caring for her super sensitive skin with coconut oil, Lauren had a rather nutty business idea.
New beginnings
It took a year of searching for the perfect coconut oil (and welcoming our second daughter) before we launched Kokoso Baby® in June 2014. Check out our original label design!
Inspired by baby
We only went and won the Boots 'Inspired by Baby' competition and launched our lovely coconut oil in 200 stores nationwide. Here we are delivering our first ever order to Boots!
Dragons' Den
As well as being chosen as a Start Up Loans Ambassador and visiting the Houses of Parliament, Lauren and Mark pitched to the Dragons and proudly accepted investment from Touker Suleyman.
A new addition
After 18 months of formulating and testing, we launched our long-awaited second product – our Gentle Hair & Body Wash. We were also thrilled to scoop Gold for Best Baby Toiletries Collection in the Junior Design Awards!
Happy days
Then came our Happy Scalp Cream™, a pure and gentle baby scalp cream that scooped Best New Product Launch of 2018 in the Beauty Shortlist Awards!
Moving on up
We launched our Organic Baby Soap and moved into bigger premises. In November we launched our Baby-Soft Balm Stick in eco-friendly cardboard packaging. We also bought out our Dragon and became a fully independent family business again. Go us!
Giving back
In March we launched our Coconut Oil Baby Lotion with a 'Buy One, Gift One' initiative for NHS staff. In August we were incredibly proud to be one of 19 brands brought together by The Duchess of Cambridge to support vulnerable families. Collectively we donated over 10,000 new items to more than 40 baby banks nationwide.
Kokoso Protect is born
From launching a new website to welcoming our child-friendly eco sanitiser range Kokoso Protect, this was a year of exciting new beginnings. We were also super proud to pick up a host of industry awards, including Best Baby Lotion, Best Baby Balm and Best Scalp Product for Baby.
Earth Positive
We've always strived to be an eco-friendly brand, but this year we made it official by becoming an accredited Earth Positive Business with Greenspark. Find out more on our blog! We also scooped Gold for the second time in the Best Baby Toiletries Collection category of the Junior Design Awards.
Why we're nutty about coconut oil
Coconut oil is the purest, gentlest, kindest way of caring for your baby's skin. In the tropics this natural wonder oil has been used to nourish and moisturise skin for generations. Raw virgin coconut oil contains Vitamins A and E as well as a unique combination of medium-chain fatty acids including lauric acid – a magical healing agent also found in breast milk. These special fatty acids are made up of teeny, easily absorbable molecules perfect for sinking deep into your baby's skin to comfort, hydrate and leave them feeling gorgeously baby-soft, not greasy.