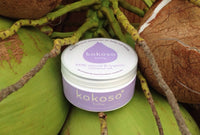 Why choose organic skincare for baby?
This Organic September, let's shout about the many amazing benefits of choosing organic skincare products for babies and children. 
Here at Kokoso, we believe organic baby skincare not only gives your little one the healthiest start - it's better for the world they'll grow up in too. 
Organic skincare ingredients must meet strict regulations on how they're grown and produced. Kokoso Baby Coconut Oil is Bioagricert and USDA-certified organic, meaning our ethical, family-run coconut farms and facilities are regularly inspected to ensure they meet the very highest organic standards. 
So when you choose Kokoso for your family, you can be confident our kind coconut oil baby range is…
Made from the highest quality, nutrient-rich ingredients 
Gentle and highly beneficial for sensitive skin 
Sustainably and ethically produced
Free from toxic pesticides
Grown from farming that contributes to biological diversity and wildlife protection 
Protecting streams and soil from pollution
Always cruelty free 
Helping in the fight against climate change 
"I love knowing that Kokoso uses organic ingredients that are kinder to my baby's skin and the planet." Kirsty 
Every product in Kokoso Baby's award-winning range is made using premium raw virgin cold-pressed organic coconut oil. It's what makes our products so special. 
Find out how we make Kokoso Baby Coconut Oil.
100% Organic Baby Care