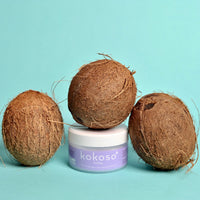 Hair Loss After Pregnancy
Hair loss after pregnancy - what's normal? And how Kokoso Baby Coconut Oil can help.
Those first few post-partum months can be alarming on many fronts... New baby, new body, new boobs – and then there's the masses of hair being shed, clogging up the plughole come bathtime! Hair loss after pregnancy is disconcerting, to say the least. Here's a look at what's normal and how Kokoso Baby Coconut Oil can help. 
Why does post-partum hair loss happen?
You might have noticed your hair getting thicker during pregnancy. This is because the normal hair growth cycle is altered during pregnancy, with increased estrogen levels freezing hair in the resting phase of the cycle. Hair which would normally falls out, stays in.
After your baby is born, hormone levels change again and all that 'resting' hair falls out!
Is this much hair loss normal?
The typical length of time you can expect hair loss is from between 3-4 weeks post-partum to 6 months – however it's completely normal to have continued loss until as late as 12-month post-partum.
The amount of hair you'll lose also varies from mum to mum. Some new mamas won't even notice this natural post-baby shedding – while others (me) will panic they're going bald! The average head loses as much as 100 hairs a day – and that's before post-partum hair loss. So, with your head having quite a bit of catch-up to do, you can expect a LOT of hair to shed each day.
And just think, your hair loss could look even worse if you don't have time to brush those falling hairs out every day (most new mums then!) and it comes out all at once when you shampoo.
Can post-pregnancy hair loss be prevented?
While post-partum hair loss cannot be prevented, there are things you can do to prevent excessive loss and help to keep your hair feeling thicker and healthier:
Be kind to your hair – skip straightening and blow-drying and put off chemical treatments like perms and colouring until the shedding stops.
Use scrunchies or barettes in your hair rather than elastic bands, which can pull at and tangle new and shedding hair.
Treat your hair to a weekly nutrient-rich Kokoso Coconut Oil hair mask using your baby's pot of the wonder stuff (they'll never know!).
The benefits of a Kokoso hair mask
"I tried Kokoso as an overnight hair mask last night as my hair was feeling very dry. After a night of coconut loveliness my hair feels soft & lovely again! I am SO pleased & will try to do it once a week now to keep it in condition. Thank you!" — Becca
Organic coconut oil is one of the best natural hair care ingredients on the planet. It can add shine and moisture, soften and de-frizz – and generally revitalise unloved mum hair.
Ultra-lightweight with a beautifully fresh and mild coconutty fragrance, Kokoso is the perfect deep conditioning hair mask because it filters into your hair shafts to replenish and rejuvenate your existing strands whilst encouraging healthy re-growth at the scalp. It also aids in reducing protein loss from your hair, which can lead to lifeless locks – nobody wants a limp barnet!
How to treat your tresses to a Kokoso Coconut Oil hair treatment:
Scoop out a generous dollop of our solid coconut oil
Soften in your hands and smooth through your hair
Cover your hair from root to tip (without overloading)
Leave in overnight
Wash the oil out next morning (shampoo twice and follow with regular conditioner)
Voila! Luscious locks from a completely natural product, without the use of any harsh chemicals.
The good news is that the hair you lose WILL grow back. At first it might take the form of stubborn little tufts that refuse to grow in the right direction. But I can promise you that it does settle down eventually – and a regular coconut oil hair treatment with your little one's Kokoso can really help to work wonders.
How much hair did you lose post-baby? We'd love to hear your experiences!