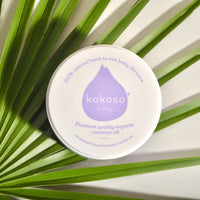 How To Keep Baby Skin Soft
Helping to keep baby's skin baby-soft as they grow
Many parents might think sore bottoms and dry skin are things that 'just happen'; all part and parcel of coming into this world with delicate skin. Well, we believe there are ways to help keep your little one's skin soft and happy – just as Mother Nature intended.
Here are our top tips for helping to keep baby skin tip-top as they grow – including how and when to apply Kokoso Baby's premium organic coconut oil.
"Kokoso Baby is the most perfect product. It's not heavy or greasy and it leaves my son's skin silky smooth and smelling gorgeous. Ever since using Kokoso his skin has been amazing. We can't get enough!"
— Steph Truman
I swear by Kokoso, it's amazing. I've used it on my little boy from day 1 and people always say how lovely his skin is!"
— @zoemariejewell
"My daughter is 11 months old and she's never had a hint of a sore bottom thanks to Kokoso. "
— Lacey Hatton
"I'm obsessed with Kokoso Baby. I use it after every nappy change and every bath and Addie's skin is so soft and gorgeous. She's never had a sore nappy area and I swear it's all down to this amazing coconut oil. "
— @ellenrp.x
The first step is realising just how precious your baby's skin is, and using natural baby skincare as part of your daily routine as early as possible (don't forget that as with all natural products, we always recommend carrying out a patch test). Your little one deserves only the kindest ingredients on their skin – and natural, organic products are filled with nutrients that moisturise and promote skin health.
Kokoso Baby Coconut Oil is proud to have won a Mumsnet Best for use as a nappy cream.
How to use Kokoso to help keep skin beautiful from the beginning
Kokoso has been created with delicate young skin in mind; everything about our baby coconut oil is gentle and kind to even the newest skin. Apply a small amount as a natural bottom balm at every nappy change to help keep little bottoms peachy soft and smooth. Our lightweight formula means it's easily absorbed and ideal for using with either cloth or disposable nappies.
As parents, we would also recommend plenty of 'air time' with the nappy off, as well as changing your little one's nappy regularly – and as soon as possible after a soiled nappy to prevent soreness from occurring.
And don't wait for dry skin to strike either. Kokoso is an amazing natural emollient that contains nourishing vitamin E and moisturising fatty acids. Gently massage a small amount into your little one's skin to help keep it hydrated and happy as it adapts to the environment. You can do this daily after bath time or whenever the skin feels like it needs some nourishing TLC.
Kokoso can also work beautifully as a moisturising organic baby massage oil. Certified suitable for sensitive skin, it's the perfect 100% natural multi-tasking skincare oil for helping to keep babies' skin in good condition from the very first day. But don't just take our word for it…
"Love this stuff. We started using Kokoso when my little princess was 10 days old. I use it from head-to-toe and she's always had beautiful skin!"
— @lottielou2111
"We've been using Kokoso since week one and we love it, our baby's skin is so soft! Thank you Kokoso. "
— Hayley McCabe
Kokoso Baby is a premium quality raw virgin organic coconut oil specially selected for baby skincare. It hasn't been refined, bleached, deodorised or tinkered with. We've simply left all of its amazing natural nutrients to do the important job of moisturising your little one's skin.