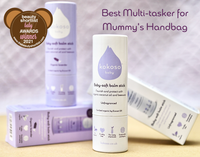 Kokoso Baby: Best Natural Baby Brand 2021 - Finalist!
Kokoso Baby is super proud to have scooped 7 fantastic awards in The Beauty Shortlist 2021 Baby Awards! 
The Beauty Shortlist celebrates the very best in natural & organic products for mother & baby.
"In this year's list you'll find lots of stand-out products made with Mother Nature's healing herbs and plants. Products that are a joy to use, clever, fun, safe, innovative and nurturing. Products you quickly miss after you've used them down to the last drop." The Beauty Shortlist
Thank you to all of the judges and testers for recognising our kind coconut oil baby skincare range!