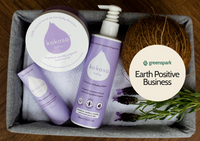 Kokoso Baby is officially an Earth Positive Business!
At Kokoso Baby, we've partnered with Greenspark to become an Earth Positive Business.
This means we rescue plastic from the ocean with your orders and plant a tree when you leave a review – all the while offsetting the carbon of our team by supporting climate-positive UN projects across the globe.  
Visit our Greenspark dashboard to see our real-time impact.
The wonderful projects we support are vetted for their social and environmental goals, so that we can maximise our positive impact for both the planet and its people.
Find out more about the fantastic earth-friendly actions we're taking below...  
Cleaning up the ocean with your orders
We strive to produce sustainable and eco-friendly products, and we're continually seeking to reduce the use of plastics in our packaging. Whilst we still need to use some plastic (which is often post-consumer recycled content), we offset this 100% by rescuing ocean-bound plastic when you place an order with us. 
We do this in collaboration with Plastic Bank, whose mission is to clean up ocean plastic whilst improving the lives of the people who collect it.  
This means your order will:
Rescue plastic and improve the health of our oceans
Alleviate poverty in local communities
Create material to be recycled into new products and packaging
About Plastic Bank
Plastic Bank's mission is to fight plastic pollution in the ocean as well as high poverty levels in developing countries. It builds recycling ecosystems in under-developed communities in order to protect our oceans and provide local people with fair and safe work that creates viable recyclable materials.   
The programme has helped more than 5,000 people in Haiti, Brazil, the Philippines, Egypt and Indonesia to earn a fair, sustainable income by collecting plastic waste from the ocean.   
To maximise positive impact, Plastic Bank selects its location sites based on three core criteria: high unemployment, high poverty and high plastic pollution. In doing so, they directly contribute to 14 of the 17 United Nations' Sustainable Development Goals.
Plastic Bank is helping the world stop ocean plastic while improving the lives of those who collect it.
Plastic Bank promotes the circular economy by monetising plastic waste. Their collectors receive a premium for the materials they collect, which helps them support their families. The collected material is reborn as Social Plastic® which can be easily reintegrated into products and packaging as part of a closed-loop supply chain.
Project Verification
Headquartered in Vancouver, Canada, Plastic Bank is recognised as an innovative, market-based approach to helping the world stop ocean plastic while improving the lives of those who help collect it. They have been endorsed by the United Nations Framework Convention on Climate Change and received the UN "Momentum for Change" Climate Solutions Award.
Find out more here.
Planting a tree for every review
For every review our customers write for us (we'll email you after 14 days to see what you think of your purchase), we plant a tree through Eden Reforestation Projects.
This means your review will:
Plant a native tree 
Help combat deforestation
Support the local communities that plant them
Eden Reforestation Projects is on a mission to combat deforestation by employing local communities to plant trees, providing an empowering means to alleviate extreme poverty.
Each project employs local communities to work within their nurseries and project sites in Madagascar, Haiti, Nepal, Indonesia, Mozambique, Kenya, Nicaragua and Honduras, engaging local communities to protect and care for newly planted regions.
Eden only plants native tree species to maintain natural biodiversity, and so far, have planted more than 500 million trees around the world.
In addition to manually planting millions of trees, Eden Projects have discovered that once natural regeneration kicks in, their tree planting efforts are organically multiplied.
Each 'grow site' is carefully selected for maximum environmental and social impact, following a core mission of using reforestation as a means to alleviate extreme poverty and protect our planet.  
Project Verification
Eden Reforestation Projects is registered as a 501(c)3 non-profit organisation headquartered in California, USA. They are endorsed on the United Nations Sustainable Development Partnership Platform and are recognised as a leading actor in international reforestation efforts and 'Employ to Plant' methodology. 
Find out more here. 
Offsetting our carbon
We support vetted climate-positive projects that reduce global greenhouse gas emissions through the United Nations Carbon Offset Platform.
This means we can calculate the carbon footprint of our team and purchase carbon credits to compensate for our collective greenhouse gas emissions.
These credits contribute towards projects around the world that reduce, avoid and remove greenhouse gas emission from the atmosphere.  
They also support sustainable development in the communities where these projects are implemented, ensuring job creation and continuity, health improvements and many more co-benefits. This is why one can consider investing in these projects not only as climate action to address one's footprint, but also as a contribution to sustainable development. 
Examples of carbon offsetting projects Kokoso Baby supports:
Sugarcane Biomass Power in India (UN Project 6315)
This project uses sugar cane waste to create renewable energy in the East Indian state of Bihar. By utilising a by-product of the sugar cane industry, this project simultaneously tackles organic waste while also creating a more sustainable energy source for the local region.
This project offsets an average of 3,975t of CO2 emissions per year. 
Improved cook stoves in Malawi (UN Project 9933)
The World Health Organisation estimates that over 3 billion people in low- and middle-income countries rely on energy-inefficient solid fuels such as wood, charcoal, coal, animal dung, and crop wastes. This project helps transition rural households in Malawi from traditional three-stone cooking fires to energy-efficient cookstoves or "changu changu motos".
Switching to a Changu Changu Moto saves 2.5 tonnes of carbon a year.
Because of the wood-burning efficiency of improved cookstoves, women who switch to a changu changu motos save roughly 10 hours per week collecting firewood. Annually, this reduces wood consumption by an average of 100 bundles of wood per cookstove, or the equivalent of roughly 2.5 tonnes of carbon emissions.
Women and Children Directly Benefit from Switching to Improved Cookstoves
Traditional three-stone fires used in Malawi not only pollute the environment, they also pose a serious health risk as they produce significant smoke that is related to health problems such as lung cancer and childhood pneumonia.
Find out more here.