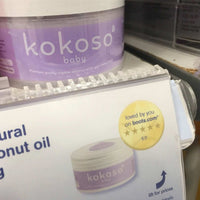 Kokoso Baby is officially a five-star product on Boots
Oh hi there shiny new in-store signage at Boots! 
Kokoso Baby is officially a five-star product on Boots.com thanks to all of the amazing reviews our premium organic coconut baby oil has received!
We're thrilled that so many of our customers highly recommend our multitasking wonder oil to other parents and their little ones – whether for use as a body butter, bottom balm stick or for baby massage, dry skin, baby acne, or indeed for the simple reassurance of a gentle skin-kind baby moisturiser that's 100% natural and free from any nasty chemicals.
Here's what just what a few of you have had to say:
Coconut oil in another league
keelymakeup
"This is in a completely different league to other coconut oils, it's not greasy and thick it's smooth and silky and melts into the skin. I don't even use my other organic Virgin coconut oils now. I use it on my whole family for everything and I've brought a tub every month since as we use it every day for over a year now. So glad Boots do click and collect and now they are finally stocking it in my local store."
Must have product!
Kirsty09119
"I absolutely love Kokoso. I bought it for my newborn son who had quite dry, sensitive skin and also baby acne. After the first use it cleared the baby acne up completely and had really soothed his dry skin. This stuff is honestly so impressive. It glides on baby's skin & is not oily like your conventional coconut oil. It lasts ages too, great value for money. We use it for everything, moisturiser, nappy barrier cream, some in bath instead of harsh bath products. I use it as face mask, make up remover…everything! Honestly, every mum should have a pot!"
Brilliant product
Tash0305
"I am in love with this coconut oil. The smell is amazing. You would think you would need alot but it just warms and melts in your hands and gives a nice coverage. I love the feel of it, the kids all had it on last night and smelt amazing. I normally scratch after my shower so thought I'd try it on myself. It's been 6 hours and I haven't scratched yet. Definitely going to be a winner in this house."
Wonderful product for babies!
DaniellaJ
"After reading the ingredients on many popular baby lotions – and the ones we were given as gifts – I was surprised at all the chemicals and ingredients listed. Then I found this beauty whose only ingredient is coconut oil! We have been using this from day 1 on our baby's skin. It is gentle and very moisturising without making baby too slippery or greasy. Very lovely scent. Well worth its price as a little goes a long way! Will be buying this on repeat! Would highly recommend!!"
Kokoso Baby is a premium quality raw virgin organic coconut oil specially selected for head-to-toe baby skincare. It hasn't been refined, bleached, deodorised or tinkered with. We've simply left all of its amazing natural nutrients to do the important job of moisturising your little one's skin.