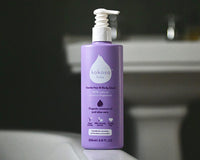 Is Coconut Oil Good For Baby Hair?
Coconut oil is beneficial in shampoo for babies, children and grown-ups too!
Here at Kokoso Baby®, we use cold-pressed organic coconut oil as the star ingredient in all our formulas, including our Gentle Hair & Body Wash. This award-winning product contains a mighty 10% organic coconut oil to ensure it leaves baby's hair soft, nourished and healthy-looking.
And of course, not only is this product perfect for your little one's hair and scalp, it is also designed to be an effective natural body wash for baby too.
Is coconut oil good for baby's hair?
On its own, coconut oil does not make an effective shampoo (but we do recommend using it as a nourishing overnight hair mask for both baby and you!) – which is why we've formulated an easy-to-use coconut oil shampoo for you.
Coconut oil is predominantly made up of a medium chain fatty acid called lauric acid. Lauric acid has a low weight and straight structure, which allows coconut oil to easily penetrate the hair shaft. This unique structural quality makes coconut oil great for hair because it deeply hydrates, repairs the hair's surface and prevents hair protein loss.
What makes Kokoso baby shampoo different?
Most baby shampoos are translucent because they contain a lot of water with added sulfates to create a sudsy texture. Sulfates are a type of synthetic surfactant, which are molecules that attract oil and water to remove dirt and grime. Although sulfates cleanse and are responsible for creating a big bubbly lather, they can be incredibly drying on skin and hair.
Here at Kokoso Baby® our white creamy formula is oil-based rather than water-based. It has been designed to cleanse gently without stripping hair. To create our gentle bubbles, we use mild plant-based surfactants such as Coco-Betaine, which is not only biodegradable and ECOCERT-approved but derived from our most favourite natural ingredient – coconut!
Of course, because our baby wash is so natural and mild with a very high coconut oil content, it is never going to be as foamy as many of the big-name brands on the high street. Our top tip to make bigger bubbles is to add a splash more water when lathering the wash in your hands!
Super foods for your baby's hair
As well as moisturising organic coconut oil, our baby wash & shampoo is made with organic aloe vera which is known for its incredible hair care properties. Aloe vera nourishes hair follicles and encourages re-growth by stimulating blood circulation along the scalp. Which is great news if baby starts to lose some hair, which is a natural process called telogen effluvium that many babies experience in the first six months. So don't panic if it happens to your little one!
Is our baby shampoo tear free?
We've also made sure that our Gentle Hair & Body Wash is formulated to be as mild and gentle as possible for baby's eyes. We've ensured that the pH level is close to that of baby's eyes so as not to cause irritation.
Unfragranced or scented baby shampoo?
Whether you're looking for an unfragranced baby wash or something super scrummy, we've got you covered!
We offer two versions of our Gentle Hair & Body Wash, both made with the same coconut-packed formula. The only difference is we've added a few drops of our 100% natural allergen-free Coconut scent to one of them, for super sweet bathtime bubbles that remain super kind to skin and hair too.
If you're unsure which to go for, we recommend our unfragranced products for very young babies and those with particularly sensitive skin. When your little one's skin has had time to strengthen and mature, you can start to introduce our natural Coconut fragrance into baby's bathtime routine.
Paediatrician approved
But don't just take our word for it. Both of our baby washes have been dermatologically tested and approved for sensitive and eczema-prone little ones. They are also certified as safe to use from birth and paediatrician approved. Hooray!