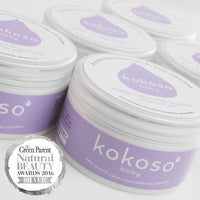 Kokoso Baby Wins Silver for Best Baby Oil at The Green Parent Awards
Kokoso Baby Coconut Oil wins silver for Best Baby Oil
The prestigious Green Parent Natural Beauty Awards search for the cleanest, greenest and most effective natural products on the market today – so we are delighted that our premium organic coconut oil has picked up silver in the Best Baby Oil category!
The Green Parent is the UK's leading green lifestyle and natural parenting magazine and these are some of the most respected awards in the industry, judged by an independent panel of beauty experts who try out each product and write about their experiences.
Look out for us in the special edition Beauty Bible with your copy of The Green Parent, on sale from July 15th 2016.
Kokoso Baby is a premium quality raw virgin organic coconut oil specially selected for head-to-toe infant skincare. It hasn't been refined, bleached, deodorised or tinkered with. We've simply left all of its amazing natural nutrients to do the important job of moisturising your little one's skin.