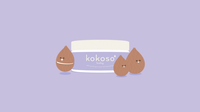 We choose our coconuts carefully
Extra special coconuts
Just one of the things that makes Kokoso Baby so perfect for your little one's skin is the extra special variety of coconut we use to produce our premium organic coconut oil.
There are approximately three coconuts in each 168g pot of Kokoso Baby and these coconuts are unique to the region they come from, which we like to think makes our little pots even more special. They are carefully nurtured in our coconut orchards using chemical-free, sustainable farming methods and are only ever harvested when they reach optimum maturity at around 12 to 14 months. Each coconut that makes it into our pots is hand selected by the colour and texture of its skin to ensure it's packed full of all those amazing natural nutrients that are so perfect for head-to-toe infant skincare.
Within three hours of being opened, the coconuts set out on our unique and very gentle fresh-pressed extraction process to become Kokoso Baby's ultra-lightweight raw virgin organic cold-pressed coconut oil.
Because, for our little ones and yours, only the best coconut oil will every be good enough.
Kokoso Baby is a premium quality raw virgin organic coconut oil specially selected for head-to-toe baby skincare. It hasn't been refined, bleached, deodorised or tinkered with. We've simply left all of its amazing natural nutrients to do the important job of moisturising your little one's skin.