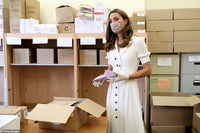 Working with The Duchess of Cambridge to support vulnerable families
On Tuesday 4th August 2020, The Duchess helped unpack donations at Baby Basics UK in Sheffield before talking to parents to find out how baby banks have provided them with invaluable support when they have needed it most.
After learning about the growing need for donations to baby banks, The Duchess spearheaded a drive for essential items to be donated by brands and high street retailers. In total, 19 companies have donated items to Baby Basics, Little Village and AberNecessities, who operate baby banks across the UK.
The Duchess of Cambridge said:
"Over recent months, I have heard from families who have been supported by baby banks through the most difficult of times and I have been deeply moved by their stories. Having somewhere to turn to for support is important for all families, and baby banks work every day, up and down the country, to provide immediate, tangible and practical help for parents and carers when they are most in need. Baby banks are driven by incredible volunteers, demonstrating the power of community spirit in supporting families and coming together to raise the next generation. Thanks to the generosity of the companies taking part in this initiative, baby banks across the UK will be able to support even more families through this particularly challenging time."
What are baby banks?
Baby banks assist and empower families by ensuring every child has the essential items they need to thrive. They are powered primarily by volunteers and typically run on professional referral from services such as health visitors, midwives and social workers.
A 2018 survey estimated that one in 100 families in England with children under five have visited a baby bank, and statistics show that baby banks have found a substantial increase in the use of their services during the coronavirus pandemic. However, many baby banks have been unable to accept second hand items at this time, while 9 in 10 baby banks say the outbreak of COVID-19 is making it harder to support families in the way they would want.
How Kokoso Baby has helped
 Here at Kokoso Baby, we are delighted to contribute items from our natural baby skincare collection to be distributed to baby banks across the UK. Packed with nourishing coconut oil goodness and suitable for the most sensitive skin, we hope our donation can make a small but positive difference to little ones in need.
Lauren Taylor, Founder of Kokoso Baby, said:
 "We are honoured to support The Duchess of Cambridge and the incredible work of baby banks in the UK. As a small family business, we're delighted to be able to help other families through The Duchess's wonderful initiative." 
Cat Ross, CEO of Baby Basics, said:
"We are thrilled to be part of this amazing initiative from The Duchess of Cambridge. To have the opportunity to highlight the importance of Baby Banks and the amazing service that Baby Basics Centres across the UK provide has never been more important than at this time when we are in the midst of a national crisis. So many more families in the UK will need support of a Baby Bank, some for the first time, and we are committed to doing all we can to support them in a way that restores dignity and values parents and their children. To have the support and donations of so many amazing brands makes our work that little bit easier and means that we can continue to ensure we can provide what is needed for every referral we receive."
Sophia Parker, Chief Executive and Founder of Little Village, said:
"We are delighted that The Duchess of Cambridge is helping to bring brands together to support the work of baby banks around the UK. Our survey with baby banks on the impact of Covid-19 shows huge gaps in support and rising levels of need among families living in poverty. The pandemic appears to be making the situation much, much worse for many families. We are on track to support over 6,000 children this year, double the number we helped in 2019. It's deeply worrying that babies are going without the essential items they need to thrive such as nappies and a safe place to sleep. We know that the first 1,000 days of a child's life are absolutely critical for their future outcomes around education, employment and health. Every child should have the right to a good childhood and this new initiative is a much welcomed step towards tackling child poverty in the under 5's".
Danielle Flecher-Horn, Founder of AberNecessities, said:
"We are extremely proud to be part of this initiative which is dedicated and committed to supporting children living in poverty across the UK. In the wake of COVID-19 we have been inundated with requests for nappies, formula milk, clothes and other basic essentials, and the demand continues to grow. Having taught children who have social and emotional difficulties I have seen the affect early childhood experiences have in later life. By providing parents with the resources to build a positive relationship with their children – from pregnancy and throughout the first years – we can make a real difference to a child's development, health and overall happiness. This incredible support from The Duchess of Cambridge will afford us the ability to help more struggling families with the basic essentials to ensure no child goes without."
Find out more about Baby Basics
Baby Basics UK has been working since 2009 providing essential baby/toddler equipment to vulnerable women, including but not limited to, families in economic poverty, teenage mums, women seeking asylum, women fleeing domestic abuse and trafficking. Baby Basics provide clothing, toiletries and other essentials needed for life with a children up to 5 yrs. Baby Basics works closely with midwives, health visitors and other agencies to provide a safe, reliable service that people can trust. Across their network of centres they have supported over 4000 families in 2019 and expect to have supported over 7000 families in 2020.
Baby Basics doesn't just donate useful items to people in need, it restores dignity to women who have lost their sense of it through domestic abuse, poverty or displacement. It involves people of all ages in the community, from children who decorate the gift boxes, to older people who knit blankets and baby clothes with as much love and care as if they were for their own grandchildren.
For all Baby Basics UK media enquiries please contact cat.ross@baby-basics.org.uk or call 07977 137600.
Find out more about Little Village
Little Village is a 'baby bank', which is like a foodbank, but for clothes, toys and equipment for babies and children up to the age of 5. Since Little Village launched in 2016, they have supported over 8,000 visits from families across London and we saw nearly 3,000 children in 2019. Families are referred to Little Village via a network of professionals such as midwives and social workers from over 500 organisations. As a volunteer-led movement of parents committed to alleviating child poverty, Little Village's vision is that every child in the capital has the essential items they need to thrive.
For all Little Village media enquiries please contact clare.thorp@littlevillagehq.org or call 07593 135790
Find out more about AberNecessities
AberNecessities provides disadvantaged families with the essential and basic necessities that no child should go without. From maternity bundles for mother and baby to nappies, formula milk, clothing, toys and equipment for children aged 0-18 years, AberNecessities recognises the importance of meeting the basic needs of a child in order to give them the best start possible. AberNecessities work closely with a body of professionals across the NHS, education system and social workers to support children living in poverty in our local community. Since launching in March 2019 AberNecessities have helped over 4,550 children and families across Aberdeen and Aberdeenshire.
For all AberNecessities media enquiries please contact Vicky@abernecessities.co.uk or call 0777984414
If you would like to make a donation, you can find your nearest baby bank here 
If you are interested in setting up a baby bank in your area contact Cat Ross cat.ross@baby-basics.org.uk
If you are company or business wishing to support baby banks contact Cat Ross, cat.ross@baby-basics.org.uk